💰 $10B Tampa tourism, new Coachman Park opens & what home buyers really want
🤩 Airport visitors spend almost $10 billion within Tampa Bay area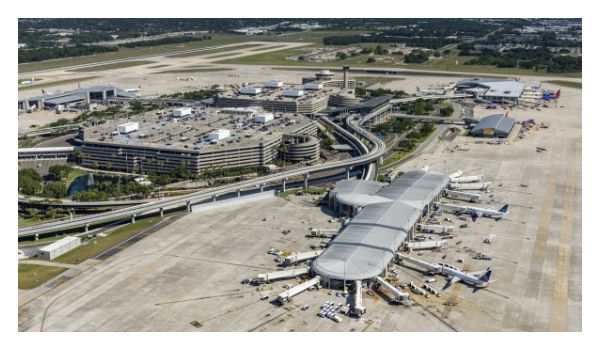 Florida's airports are economic powerhouses, especially in Tampa Bay. This isn't just small talk, it's backed by a recent report from the Florida Department of Transportation (FDOT).
Driving the news: Guess which airport is the highest earner in FDOT's District 7? Yep, it's Tampa International Airport (TPA) with a jaw-dropping $11.3 billion annual economic output.
By the numbers: In 2021, aviation activities in District 7 pulled in a total of $48.1 billion in economic output, according to the Florida Aviation Economic Impact Study (AEIS). And here's a fun fact, $9.2 billion of this money was splashed by visitors at Tampa Bay airports.
Not too far behind are St. Pete-Clearwater International Airport and MacDill Air Force Base, clocking in at $3.4 billion and $3.1 billion, respectively.
Meanwhile, TPA ranks fourth among all Florida airports in terms of economic output, with Orlando International sitting pretty at the top with $41.4 billion.
The big picture: The report isn't just blowing Tampa Bay's horn, it's singing praises of Florida's entire airport system. As per the AEIS report, this network of airports has been the wind beneath the wings of Florida's record-level economic activity.
Local jobs: The aviation industry in the area is a massive job generator too, supporting almost 279,000 local jobs, which means earnings of $16.3 billion for workers.
All around Florida, airports and the businesses they host directly employ about 182,000 people. The bigger job numbers come from the gigs created by the influx of tourists and goods.
Tampa's growth: Post-Covid, airports are bouncing back like champs. Take St. Pete-Clearwater airport for instance, it's seen "tremendous growth" in destinations and passengers and even outperformed Jacksonville International in economic impact in 2021, despite having fewer passengers.
Go deeper: Let's not forget about cargo. TPA ranked third in the state for air cargo volume with nearly $3 billion worth of electronics shipped through it in 2021, as per the FDOT study. There's even a $74 million air cargo facility for Atlanta-based UPS under construction at the airport right now.
The bottom line: The sky's the limit for Florida's aviation industry, especially in Tampa Bay. It's not just flying high, it's also helping the state's economy and job market soar.
🛝 Coachman Park in Clearwater nears grand opening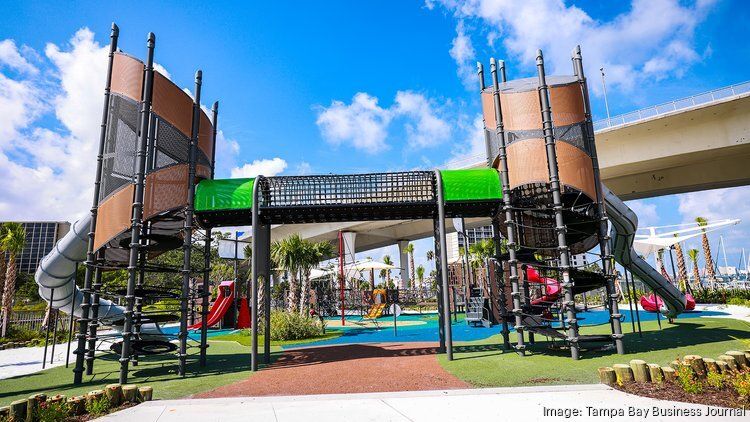 The countdown is on for the grand opening of Clearwater's Coachman Park, an important part of the $84 million Imagine Clearwater project.
The opening is just over a week away, and Mayor Brian Aungst Sr. is already envisioning the new park as a major attraction that will tie the beach into the downtown waterfront.
Why it matters: The Mayor described this as a "catalytic project", intending to invigorate the downtown area to match the beach's appeal. As visitors come to enjoy the park, they'll pass local businesses, potentially boosting the local economy.
Zoom in: What can you expect at the 19-acre park? Here's the list:
A pirate island-themed playground.

A splash pad.

A boardwalk and lake area.

Botanical garden.

A bluff walk.

A 4- to 5-acre green space for picnics and events.

A gateway plaza.

A new dockmaster office plaza and a "bier pier."

Areas dedicated to public artwork.

Five custom-made metal torches sculptures.
Also, say hello to The Sound, a waterfront music venue with 4,000 covered seats and additional lawn space for up to 5,000 guests.
It's got multiple restrooms, four entrances for ticketed events, and even an "elevated experience" area with a wet bar, catered food area, restrooms, seating, and an upper-level balcony.
Ruth Eckerd Hall will manage it and there will be a minimum of 35 events a year.
Other facilities: The park plans to have food trucks on-site, catering to the vibe of different concerts.
As for parking, there are just under 200 spaces adjacent to the park, but about 3,000 spaces are within walking distance, plus an additional 2,000 privately owned spots nearby.
What's next: The city and Ruth Eckerd Hall are prepping for a grand opening celebration running from June 28 to July 4. The week-long celebration will be topped off with the city's annual July 4 fireworks show.
🏒 Tampa Bay Lightning to sell minority stake at $1.4B valuation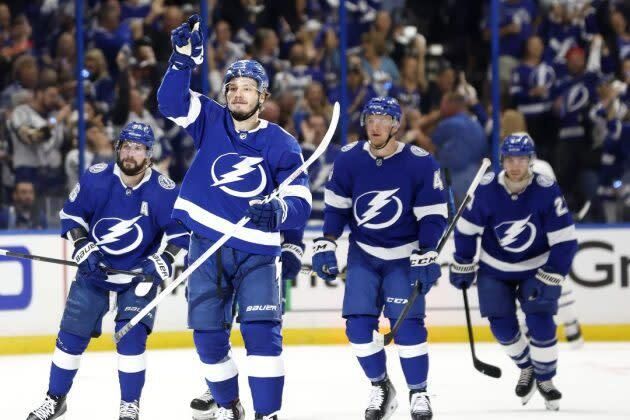 Our very own Lightning is sparking up some big news! They're set to expand their partnership with a private equity firm, Arctos Sports Partners, and this deal values our hockey heroes at a record-breaking $1.4 billion, as per Sportico.
Driving the news: This isn't the first time Arctos is getting in on the Lightning action. They first acquired a minority stake in the team back in December 2021. Now, they're looking to buy an additional stake, pending approval from the NHL.
The big picture: The NHL started allowing private equity minority ownership in 2021, but there are some rules. A single fund can only own up to 20% of a team, and no more than 30% of a franchise can be owned by investment funds.
The new deal with Arctos reportedly exceeds these ownership cap rules. This means that the Lightning needs a special waiver from the league.
By the numbers: Jeff Vinik bought the Lightning for a cool $170 million back in 2010. If this new valuation sticks, it means the team's worth has skyrocketed by over 723% in just 13 years. Back in December 2022, Forbes estimated the Lightning's value at $1 billion.
Details: Vinik brought in Tod Leiweke to lead the team's financial turnaround, making him a minority partner in the team until 2015. After that, Vinik was the sole owner, up until the 2021 sale to Arctos.
What's next: Vinik's also a partner in Strategic Property Partners, the team behind the 56-acre Water Street development surrounding Lightning's Amalie Arena. So, let's keep our eyes on how this investment game plays out.
🏡 🌊 Ultimate Guide to Buying Tampa Florida Waterfront Homes
If you're looking to buy a waterfront home in Tampa Bay, we're taking a deep dive in to finding the perfect home in this video.
I'll teach you everything you need to know about waterfront homes, from the location to the features to the price.
🧐 What do buyers really want?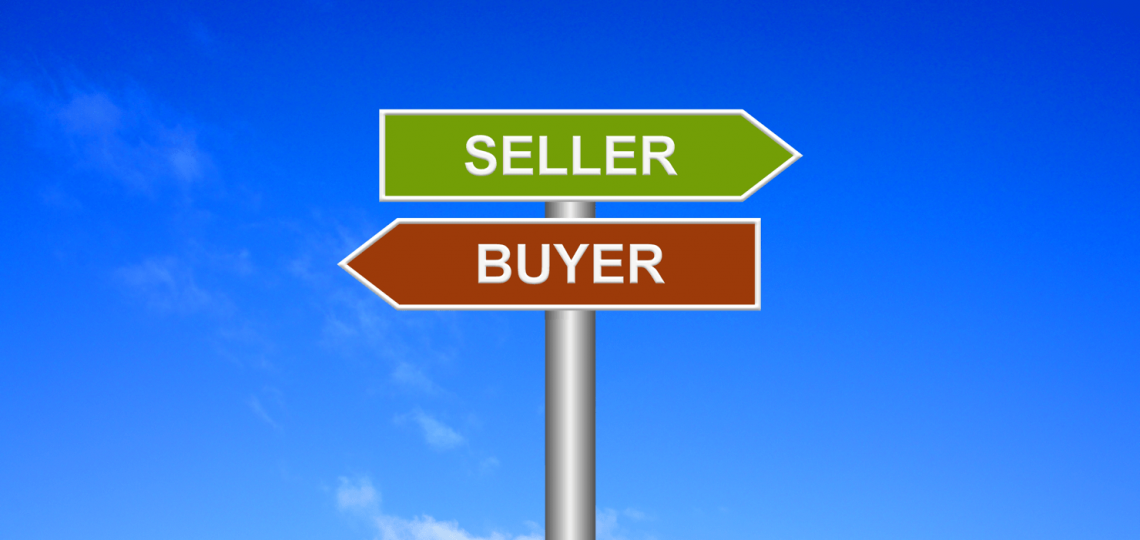 If you're considering selling your home, listen up. Curbio, Inc. has just dropped some important insights in their "Preparing to Sell: 2022 Home Improvement Report." It turns out there's a pretty big disconnect between what sellers think buyers want, and what buyers are actually looking for.
Why it matters: In the never-ending game of tug-of-war between sellers and buyers, Curbio's report offers some much-needed clarity.
According to them, 43% of sellers think there's no need to fix up their home before selling it. But, hey sellers, nearly 77% of buyers beg to differ. They won't even consider a home that's not move-in ready.
Zoom in: The report shows that buyers are still choosy. If you want to seal the deal, your home needs to be ready to live in as soon as the papers are signed.
Three findings stand out:
67% of buyers are looking for homes with updated features and layouts.

A huge 68% will say goodbye to a home in disrepair with visible wear and tear.

And remember that 77% who won't consider a home that's not move-in ready?
So basically, more than three out of four potential buyers will walk away from a home sold "as is."
ROI for home improvements: Okay, so you're ready to make some changes. But which ones will give you the most bang for your buck?
Here are the top five, according to Curbio:
Kitchen refresh (upgraded appliances, new hardware, painted cabinets, new countertops, new flooring): <377%

Refinishing hardwood floors: <348%

Basic listing prep (minor fixes, interior electrical updates): <297%

New roof: <288%

New carpeting: <280%
For instance, if you spend $15K on a kitchen refresh, you may be able to expect buyers to pay ~$71,550 extra. That's a profit of $56,550!
Take note: Full remodels may not give you the best ROI. A bathroom refresh yields a 256% return, while a full bathroom remodel's ROI is 120%. So, sellers, you don't need to go all-out. A simple refresh might be all it takes to make your home stand out and attract those choosy buyers.
The bottom line: If you want a quick sale at a good price, you'd better make sure your home is move-in ready in the current market conditions.
📊 Our Local Market Numbers as of June 20th
Have 7% rates slowed demand?
📍7% mortgages mean slightly fewer bidders
📍So fewer homes go into contract
📍And those that don't get their offer start to cut price
These are subtle signals, but many markets still have more buyers than sellers.
While there are some signs of inventory creeping up in small numbers, we're still in "The Great Inventory Crisis" in Tampa.
And demographic data show signs this could be a decade long issue:
Expect solid demographic housing demand through at least 2030.
Permanent work-from-home boost. Work-from-home arrangements mean workers and their families will need additional space, boosting housing demand even more.

More homes are needed. Rebounding adult population growth will fuel new household formations and new housing demand through the rest of the decade. JBREC expects the US adult population (age 20+) to grow by +18 million from 2020 through 2030.

Suburbs and exurbs will grow the fastest. +7.3 million additional 30-to-49-year olds between 2020 and 2030 will push demand for housing into the suburbs due to people moving from more expensive urban areas and needing more space.
This is why many experts and data are now pointing to, "We now see housing putting in a bottom, and maybe moving up a bit. We're watching that situation carefully."
Hurricane season is here again. We all remember the havoc Hurricane Ian wreaked last year, and now it's time to get ready for whatever nature throws our way.
By the numbers: The National Oceanic and Atmospheric Administration predicts a range of 12 to 17 named storms this season, with five to nine potentially becoming hurricanes. One to four of those could reach major hurricane status.
To debunk common misconceptions, Axios consulted senior climate reporter Andrew Freedman to share three important facts that Floridians should keep in mind this hurricane season.
Myth 1: The National Hurricane Center's cone of uncertainty solely represents the storm's center, not its full impact. Focusing only on the center downplays the potential reach and impact of the storm.
Myth 2: While many believe that a storm's wind intensity is the primary threat, water poses a greater danger. Coastal storm surge and heavy rainfall leading to inland flooding are significant hazards to watch out for.
Myth 3: The storm category on the Saffir-Simpson Scale does not encompass the complete range of risks. It primarily measures maximum sustained wind speeds and does not account for storm surge, rainfall, or the overall area of impact.
Reality check: Recent years have seen an increase in storms rapidly intensifying, even at the last minute. Some storms have jumped multiple categories within 24 hours, emphasizing the importance of staying updated with forecasts and heeding evacuation orders and advisories promptly.
What you can do: As Atlantic hurricane season begins, Tampa Mayor Jane Castor and other officials are urging residents to take necessary precautions. 
Signing up for emergency alerts, acquiring essential supplies, and preparing in advance can make a significant difference when faced with an impending storm.
Save on supplies: To ensure preparedness, residents are encouraged to take advantage of the waived statewide sales tax on items such as batteries, generators, self-powered radios, soaps, and pet supplies until June 9. Another sales tax holiday will run from August 26 to September 8.
Bottom line: As the new hurricane season dawns, Floridians should arm themselves with accurate knowledge and dispel common myths.
Understanding the true threats posed by hurricanes and taking proactive measures will enable residents to navigate the season with resilience and safety.
🏠 Find Available Homes Today