Home Partners of America - Lease with Right to Purchase
LEASE WITH OPTION TO PURCHASE
Home Partners of America wants to help YOU BUY A HOME!
HPA has purchased over 6,200 homes year to date, operating in 40+ market and 20 states nationwide.
HPA has a mission of making homeownership a reality for more people, like you!

A resident's financial obligation is limited to 1 year of renting.
Approved residents can:
Move out after each 1 year lease term without penalty
Elect to rent for up to 5 years
Purchase the home any time during tenancy
The process is quite simple: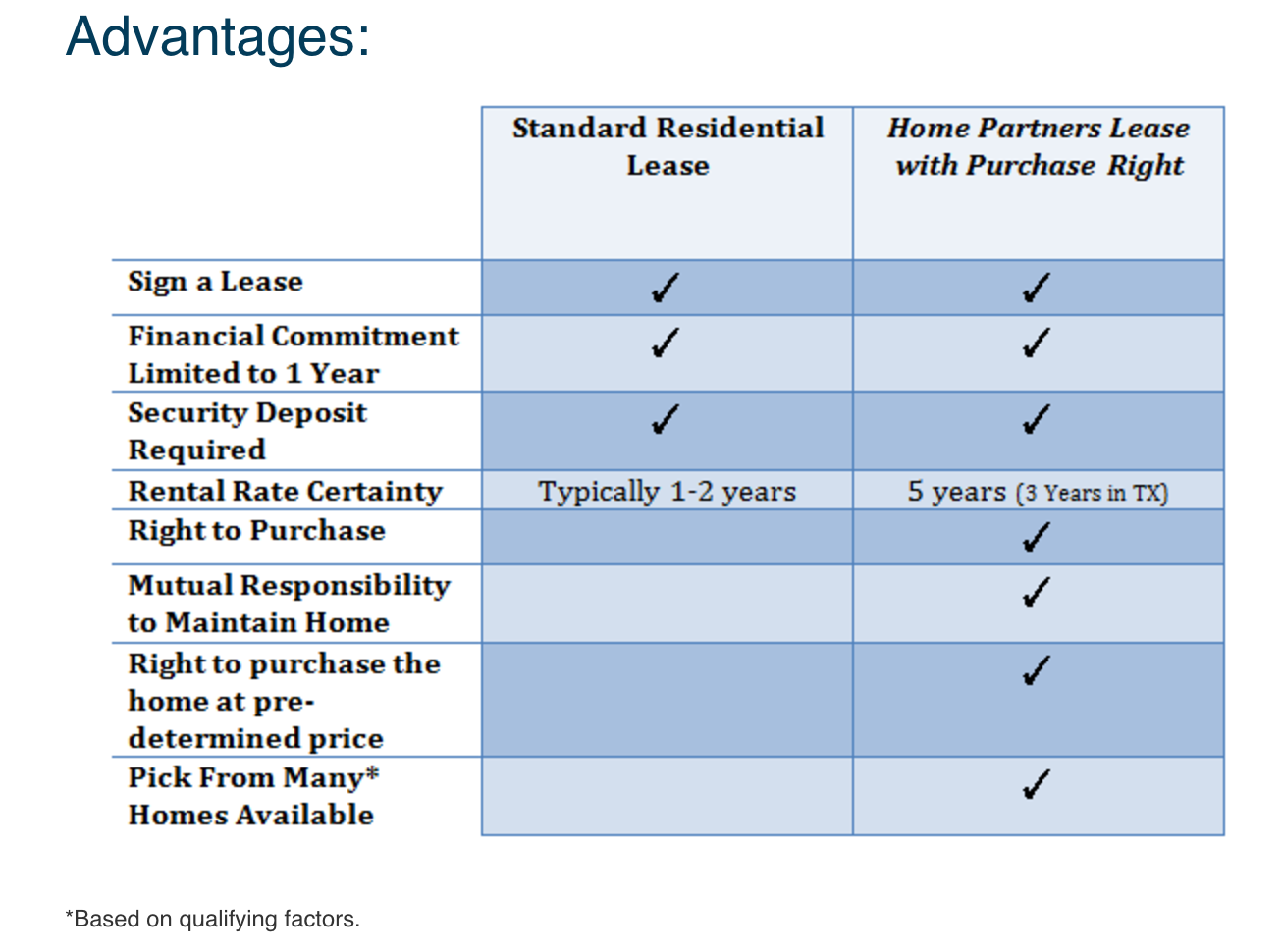 Application to move in can generally can take 45 days or longer
RESIDENT CRITERIA
We evaluate household rent-to-income and debt-to-income ratios, rental and housing history, employment history, criminal history, FICO® scores, and other elements of an application.
Basic requirements:
Annual household income of at least $50,000
Stable employment
RTI 35 / DTI 45
No recent history of eviction or pending bankruptcy
Acceptable criminal history
Every household must provide:
Full Application from everyone 18+ years old
Application Fee ($75 total per household)
Supporting documents:
Income Verification
Asset Verification (equal to 2 months of rent)
PROPERTY CRITERIA
Approved households work with you to find a home they want us to buy. It must meet the following requirements:
Location:
In an approved community (based on default high school attendance zone, ranked in the top 50%)
List Price:
Between $100,000 - $450,000
Size:
Minimum of 2 bedrooms
Lot of three acres or less
Property Type:
Single Family Home or Fee-Simple Townhome
No condo associations, commercial or multi-family properties
HOA's allowable on a case by case basis
Pool are allowed in Florida
Sale Type:
Must be a traditional sale
No REO's, short sales or auctions
Here is a list of ALL of the Homes that are Eligible for the Home Partners program by Location:
Palm Harbor
Oldsmar
Tarpon Springs
Dunedin
Clearwater
Tampa
Westchase
Trinity