Ringing in the New Year around Tampa Bay
There are plenty of parties, events and fireworks to go to in Tampa Bay area to ring in the New Year. Pick one or hit them all as we celebrate going into 2017!

As you can imagine there will be plenty of events going on all around the city, so we compiled this list for you in case you are looking for something to do last-minute.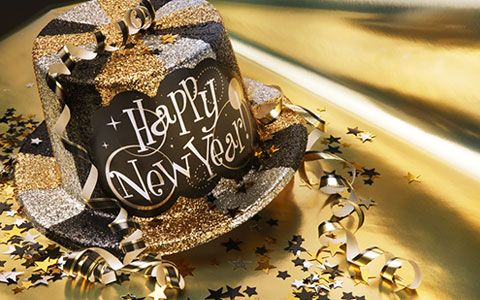 Pinellas County
New Year's Eve Party at Shephard's
Saturday, Dec. 31 at 8 p.m.
Shephard's Beach Resort, 619 S. Gulfview Blvd., Clearwater Beach
Shephard's counts down to 2017 with live music, a balloon drop, DJ, party favors and views of the Clearwater Beach fireworks display. Price: $25-$35 (21 and older only).
Light It Up Clearwater Beach
Saturday, Dec. 31 at 9 p.m.
Pier 60, Clearwater Beach
The Light it Up Clearwater Beach New Year's Eve 2016 celebration will feature Fireworks at Midnight and an evening fun for the family with restaurants, shops and activities throughout the beach. Price: Free.
Swingin' the New Year
Saturday, Dec. 31 at 7:30 p.m.
The Coliseum, 535 4th Ave. N, St. Petersburg
This all-ages dance features live music, a countdown to midnight, balloon drop, party favors, noisemakers, chocolates and prize giveaways, as well as a vintage fashion photo shoot and contest. Dress to impress. New Year's or vintage attire encouraged. Price: $30.
Toast by the Coast
Saturday, Dec. 31 at 9 p.m.
Tradewinds Island Resorts, 5500 Gulf Blvd., St. Pete Beach.
The TradeWinds Island Grand invites revelers to don their best duds for an evening of food, dancing to live music by Motel Funk, an open bar, champagne toast, balloon drop, food and more. Price: $99
New Year's Eve, Havana Nights
Saturday, Dec. 31
The Birchwood, 340 Beach Dr, NE St. Petersburg
Tickets include two floors of open bar, hors d'oeuvres, dinner buffet, live band in the Grand Ballroom, DJ on the rooftop, and a champagne toast at midnight. Dress code is 'Havana Party Style.' Price: $135
Hillsborough
Rooftop Eve - Midnight in the Garden
Saturday, Dec. 31 at 9 p.m. to 2 a.m.
Top Floor (10th) Ft. Brooke Garage, 107 N. Franklin Street, Tampa
This year's party features a Brand New location on top of a 10-story tall roof in the heart of Downtown Tampa with stunning views of the skyline and amazing views of fireworks. The Rooftop Eve will be the 'highest' New Years Eve Party in the Southeast USA! Price: $150 presale, $175 advance, $200 regular, $225 at the door.
New Year's Eve at Busch Gardens
Saturday, Dec. 31 until 1 a.m.
Busch Gardens, Tampa
Join Busch Gardens for an awesome New Year's Eve celebration with thrill rides, live music throughout the park and fireworks at Gwazi Field! Dive in the dark on Falcon's Fury and join in on a park-wide countdown to the New Year. Event admission is included in ticket price.
Happy Blue Year: Classic Hollywood
Thursday, Dec. 31 at 8 p.m.
Blue Martini, Bay Street at International Plaza, 2223 N. West Shore Blvd., Tampa
The annual formal New Year's Eve dance features a select open bar, a champagne toast, hand-rolled sushi, party favors, live entertainment and dancing until 3 a.m. This year the event has an old Hollywood twist. Price: Starts at $45
Pied Piper's New Year's Eve 2017
Saturday, Dec. 31 at 8 p.m.
Jackson's Waterfront Entertainment Complex, 601 South Harbour Island Blvd., Tampa
Start your New Year off with a boom! Every year, Jackson's Nightclub is host to the most memorable fireworks display on New Year's Eve in Tampa! Price: $55
Yacht Starship New Year's Eve Fireworks Cruise
Saturday Dec. 31 at 8:30 p.m.
603 Channelside Drive, Tampa
OR
25 Causeway Blvd, Slip #55, Clearwater
Climb aboard our 125-foot yacht and enjoy a true VIP experience! The dress code is cocktail attire. A jacket is recommended for men and cocktail dress for women. Ages 21 and up only. Price: $149.95
NYE 'Sink or Swim' party
Saturday, Dec. 31 at 8 p.m.
Round Up Tampa, 10051 W. Hillsborough Ave., Tampa
Balloon drop with cash and prizes., dance and open bar at the Round Up in Tampa. Price: $10 cover, or $20 Sink or Swim, $40 top shelf option.
New Year's Eve 2016 at Topgolf
Saturday, Dec. 31 at 9 p.m.
Topgolf Tampa
10690 Palm River Road, Tampa
Expect an epic night of fun and an abundant amount of glow sticks. Skip the crowded bar scene and reserve an all-inclusive bay package for your group that includes party favors and unlimited Topgolf from 9 p.m. to close. Price: General Bay Reservation: $225 per bay, or admission for six people
Aqua-Eve
Saturday, Dec. 31, 8 p.m.
Florida Aquarium, 701 Channelside Drive, Tampa
Celebrate the New Year with live music at the Florida Aquarium; complimentary food, beer and wine, along with a champagne toast and a fireworks display at midnight. Cash bar available. The aquarium also offers a cruise around the harbor aboard the Bay Spirit II with a view of the fireworks from the water. Price: $100 - $130
Illuminate
Saturday, Dec 318pm
Beach Bar & Restaurant 813-281-0566
Come out to Beach for the best ALL IN ONE party ! Enjoy Live Bands on the pier, DJs on the beach, open bar packages, VIP tables, dancers and literally the best "ALL IN ONE" Party ever created.
Bay Harbor Hotel & The Beach Bar have teamed up with Whats2Hot.com (out of Orlando) to create a one of a kind NYE Experience. You want to party on the beach? We got it. Table Service? Yup. Something a little less aggressive like live bands on a romantic pier?! We got that too. Price: $35-$75 and VIP packages available.