Bunnies, Beans & Eggs Oh My!
SPRING has SPRUNG! We have gathered some Fun, Exciting Easter Events around town for your to Enjoy with your Family & Friends. What a Beautiful way to explore Communities and see what they have to offer, all while having some Fun with the Family! We have also added a few of our Favorite Spring Treats (from Twosisterscrafting.com- Wow what creative and yummy treats they share!) Some easy to follow recipes to make your day Sweet & Special 🐣🌷
Egg Hunts around Town
🌷 Meet the Easter Bunny Oldsmar- Hop on over for an Easter Egg-stravaganza! The Easter Bunny will be visiting our facility from 11am-12noon $10 (per family), in addition to your hourly care cost, will get you lunch, meet and greet with the bunny, an Easter egg hunt and a photo to take home *similar to our Santa pictures, this is a drop off event, filled with fun for your kiddos! *please be sure to register on line prior to the event drop off* Sat Apr 20 2019 at 10:00 am KidsPark Oldsmar, 3130 Tampa Road, suite 3, Oldsmar, Florida 34677,
🌷 Calvary East Lake Campus 1190 East Lake Road Tarpon Springs, FL 34688. Saturday, April 20th 11:00am – 1:00pm. Join us for the area's most extreme Easter egg hunt. There will be food, giant slides, candy and much more! You can register through filling out this form. Walk up registration will be available, but registering ahead of time is the best way for us to plan on you attending the event.
🌷 CCWC Easter Egg Hunt & Helicopter Candy Drop- Saturday 4/20 from 9AM-3PM $1 covers all activities (except food and photos with Bunny). Calvary Chapel Worship Center 6825 Trouble Creek Rd New Port Richey. Egg Hunt is from 10-12:30 and is divided by age group. Check out Facebook Event Page https://www.facebook.com/events/781838172189699/ for more information.
🌷 Clearwater Community Volunteers Annual Easter Egg Hunt at Coachman Park - Event date and time: Easter Sunday, April 21, 2019, from 12 pm to 2:00pm. Directions: and Free Parking: Coachman Park is located at the corners of Osceola Avenue and Drew Street. Go west on Drew Street. Turn left on Osceola Avenue. Turn right on Cleveland Street and at bottom of the hill turn into the big parking light on the right. Easter egg hunts for children, Easter egg hunts for toddlers, The Easter bunny will make an appearance, Visits and photos with the Easter Rabbit, FREE admission, Vendors, Other activities for children, Bring a basket to collect the eggs, Farm animals are present, concessions or refreshment stand, porta-potties, face painting, inflatables or bounce house, pony rides
Coachman Park, 301 Drew Street, Clearwater , FL 33755. Phone: 727-442-2099.
🌷 Celebrate Easter @ The Well- Easter is going to be egg-tastic and you won't want to miss it! The whole family will enjoy new friends, an uplifting message of hope, and great music during our Easter Sunday Experience! Easter Egg Hunt starts at 10:00 AM but be sure you come early to register! We will have thousands of eggs, prizes, and photo opportunities! Our Easter Experience starts at 10:30 AM with engaging music, a dynamic message, and fun kids spaces! We hope you can join us! The Well- 550 E Tarpon Ave, Tarpon Springs, FL 34689 Sun Apr 21, 10:00 AM - Sun Apr 21, 12:00 PM
🌷 Easter Egg Hunt Clearwater Beach- Save the date for this fun evening. The community Easter Egg Hunt sponsored by the Rec Center, the City of Clearwater and the Clearwater Beach Association is always a great event. Prizes for all ages. North Beach Clearwater -Clearwater, FL 33767 Fri Apr 19, 6:00 PM - Fri Apr 19, 8:00 PM
🌷 Mission City Church Largo - Helicopter Egg Drop
801 Seminole Boulevard, Largo, FL 33770. Event date and time: Saturday, April 20, 2019, from 8:30 am to 12 pm. There will be three separate drops at 8:30, 10:30 and 12:30! 10,000 plastic eggs filled with candy and toys falling from the sky onto a grass field. Once the helicopter has safely left the area, the kids will then be allowed onto the field to collect as many eggs as they can gather. If they happen to find a "golden egg" then they can turn it in for a special prize. To ensure a fair and safe experience for each child they will be divided by age groups during the egg hunt. This Helicopter Egg Drop will be the most memorable Easter of your kid's lives. Plus, it's FREE!
🌷 First United Methodist Church of Lutz - Easter egg hunt, Easter bunny visit and photos, FREE event, Indoor event (good weather or bad), Bouncey houses, Face painting, Other activities for children, Food or concessions, Restrooms,
960 W Lutz Lake Fern Road, Lutz, FL 33548. Phone: 813-949-1751. Email: [email protected] Event date and time: Saturday, April 20, 2019, from from from 2:00 pm to 4:00 pm.
🌷 Glazer Children's Museum - Easter egg hunt 110 W Gasparilla Plaza, Tampa, FL 33602. Phone: 813-443-3861. Event date and time: Saturday, April 20, 2019, from 8:00 am to 10am. Members Free with proof of membership ID; General Admission $12. Join us for an egg-citing morning full of hunting, prizes, and refreshments. Eggs are hidden throughout the Museum, with a special area for children ages 3 and under. Enjoy a light brown bag style breakfast and Old McMicky's Farm. Don't forget to bring your own baskets or bags to collect eggs. Plan to play and stay for the day. Admission price includes all day play in the Museum after the Egg Hunt. *Registration is required for all members*
🌷 Tampa Riverwalk Easter egg hunt- Tampa Riverwalk, Tampa, FL 33602. Event date and time: Saturday, April 20, 2019, from 8 am to 10 pm. Join for our first ever Fitness Easter Egg Hunt! Yes it will be a work out looking for those eggs! This is a family event! Please bring your children! Everyone will be searching for eggs! It will be a blast! There will be a special surprise in each egg and a Grand prize for whoever finds the Golden Egg! We meet at the beginning of Waterworks park that is where the Riverwalk begins.This is a free event for the community
🌷 Heights Spring Festival- Armature Works and Tampa YMCA have teamed up to present the First Annual Armature Works Egg Hunt to kick off our Heights Spring Festival. Bring your baskets and join us at 10am, on the Front and West Lawns, as thousands of treasure-filled eggs will be dispersed and ready to find. The egg hunt for children 5 and under will be located on the Front Lawn, and children 5 - 10 years of age will be located on the West Lawn. Please do not leave children unattended during the egg hunt.One lucky winner from each age group will take home the coveted Golden Egg, with a $50 Armature Works gift card inside, to share with their families! Sat, April 20, 2019, 10:00 AM EDT Armature Works - Front + West Lawns 1910 North Ola Avenue Tampa, FL 33602
FUN Easter Recipe Ideas
(from Two Sisters Crafting)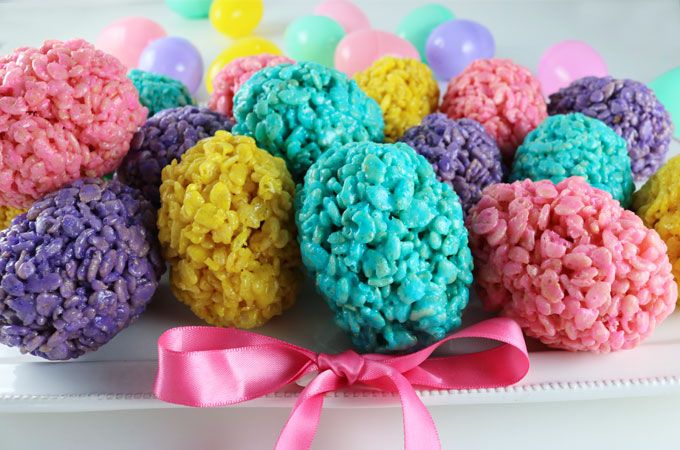 Rice Crispy Colored Eggs- Take the classic Rice Krispie Treats recipe and make colorful Rice Krispie Easter Eggs treats that both kids and adults will love.
INGREDIENTS:
Kellogg's Rice Krispies Cereal

Butter (We use Salted, Sweet Cream Butter)

Mini Marshmallows

Wilton Color Right Food Coloring System
DIRECTIONS: You will need to make four batches of Rice Krispie Treat mixture – one for each of the four Easter Eggs colors: Yellow, Blue, Purple and Pink.
Directions for a single batch of Rice Krispie Bites
Melt 3 tbsp. Butter in a medium pan.

Add 3 cups of Mini Marshmallows and stir until the marshmallows are completely melted.

Take the pan off the heat.

Add food coloring and mix.

Add 3 cups of Rice Krispie Cereal and mix until they are completely covered with the marshmallow mixture.

Allow the Rice Krispie Mixture to cool slightly.

Grab a handful of the Rice Krispie Treat mixture and then use your hands to form the Easter Eggs.

Allow Rice Krispie Bites to cool.

Repeat for the other three Easter Egg colors.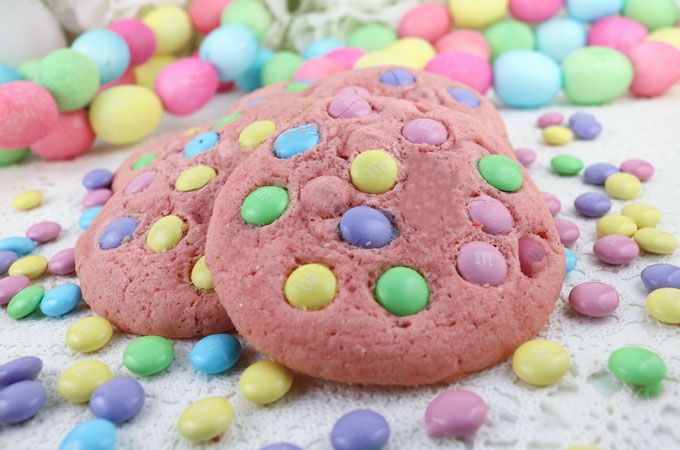 Spring Time M&M Cookies- These beautiful pastel colored Springtime Pink M&M Cookies are chocked full of Easter M&M's and you won't believe how easy they are to make.
INGREDIENTS:
1 cup Butter (softened)

1 cup Granulated Sugar

2 large Eggs

2 teaspoons Vanilla extract

1 teaspoon Baking Soda

1/2 teaspoon Salt

2 1/2 cups All-Purpose Flour

1 package Easter M&M's

Wilton Color Right Food Coloring – Pink

Cookie Sheets
DIRECTIONS:
Cream together the butter and sugar in a mixer.

Add the eggs and vanilla and mix until combined.

Add 3 drops of Pink food coloring and mix until combined.

Mix in the salt, baking soda and flour.

Take a heaping tablespoon of cookie dough and roll it into a ball.

Place the cookie dough balls approximately 2″ apart on the cookie sheet.

Lightly press down on the ball to slightly flatten the cookie dough before baking.

Press the Easter M&M's onto the cookie dough ball.

Bake the cookies in a 375 degree oven for 10-11 minutes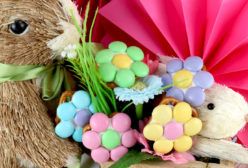 Flower Pretzel Bites- These Spring Flower Pretzel Bites are sweet, salty, crunchy and delicious – an easy and fun treat for Easter, Spring and Mother's Day.
INGREDIENTS:
Pretzel Snaps

Candy Melts – Bright White

Easter M&M Candies
DIRECTIONS:
Arrange 8 to 9 Pretzel Snaps on a paper plate.

Place a candy melt in the center of each pretzel.

Place the plate of pretzels in the microwave and heat them until the candy melts are at the beginning stage of being melted. They should be soft to the touch and melted enough to press a M&M down into it but not so melty that the candy is running off the pretzel. (Approximately 50 seconds.)

Using Easter colored M&M's, place a single M&M in the center of the melted candy melt for the flower center.

Now press in the flower petals with contrasting colored M&M's – we used six M&M's for the petals.

Let the Spring Flower Pretzel Bites to fully set up.

Store in an air-tight container.
*Image & Recipes from TwoSistersCrafting.com Check out for more Fun ideas!