🏝️ Tampa Ranked Internationally, New Brightline in Tampa & Why I Love Palm Harbor
🏝️ Sun, Sand, and World-Class Recognition: Tampa Named a Greatest Place for 2023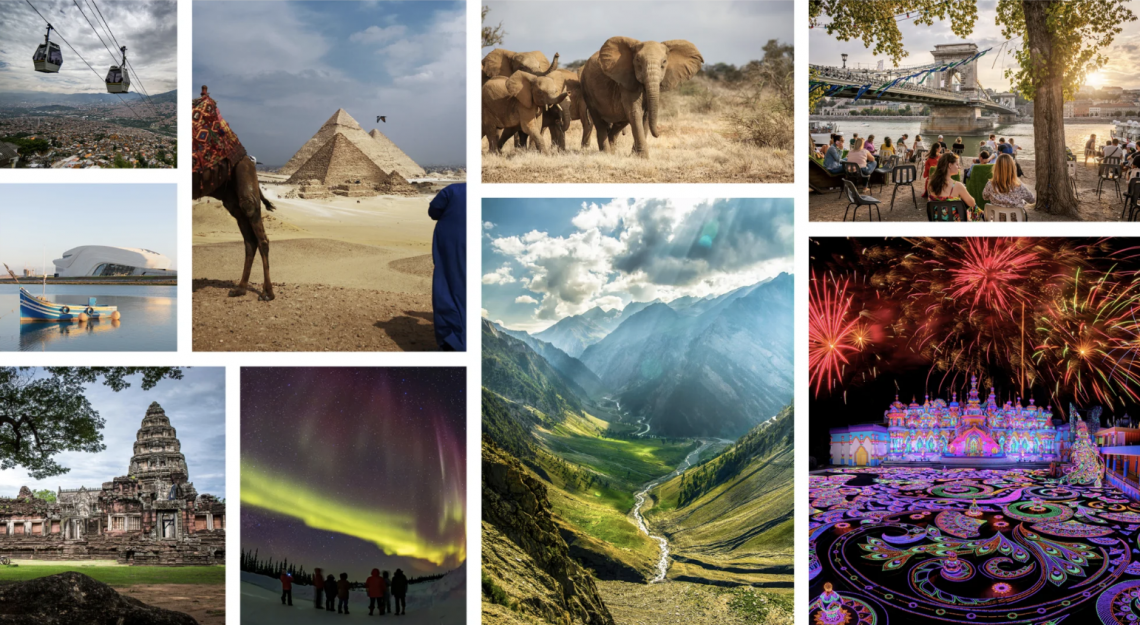 What's driving the news: TIME ranked Tampa alongside some of the greatest places in the world including:
Red Sea in Saudia Arabia

The slopes of St. Moritz in Switzerland

Naples, Italy

Budapest

Giza, and way more.
What happened: TIME received nominations of places from their international network of correspondents and contributors, with an eye toward those offering new and exciting experiences.
But it didn't stop there… Forbes & Money ranked Tampa as one of the best places to live in America, and The Tampa Riverwalk was nominated as one of the top Riverwalks in America.
Why this matters: This should come as no surprise that this is part of the reason why economists say, "Tampa Bay's higher post-pandemic cost of living is the new norm."
The bad news is that buying a home doesn't look like it's getting any easier. Even though rates may be higher, there are ways to buy down rates, work with builders, or refinance later to accommodate.
The good news is that for homeowners, this is a positive signal for Tampa long-term. It's great for appreciation, the overall economy, and the growth of Tampa Bay.
When a train starts moving, there's two options, either hop on board or decide to step off. It seems like the last few years have accelerated growth in the area and it doesn't have any plans for stopping.
This is why Florida ranked as the 2nd best place in the US for real estate only falling behind California.
🚧 Coming Soon to Tampa: Brightline Tampa & Rays Staying in St. Pete?
What's driving the news: Brightline is making significant progress towards expanding to the Tampa region. They recently tested the trains in Florida at 130 MPH and will finish the Orlando location soon. And they plan to increase to 150 MPH as they expand to Tampa, which will make the journey across the state lightning fast.
They also have new train sets and are ordering more for the Orlando to Tampa route.
Bottom line: It's coming fast & soon, but we don't know when the Tampa location will be built yet, so we'll keep you updated!
Join over 29,000 Tampa Bay & Pinellas County homeowners & get this sent directly to your inbox
We respect your inbox. We only send interesting and relevant emails.
⚾️ New 86-Acre Tropicana Field Proposal
This rendering is the Rays/Hines proposal for downtown St. Pete's 86-acre Tropicana Field site, also known as the Historic Gas Plant District.
Key takeaway from all of the negotiations and back & forth so far: St. Pete Mayor Ken Welch, despite obstacles and community chatter, remains confident the Tampa Bay Rays will build a new stadium in St. Petersburg.
Core challenge: The plan for the redevelopment of the 86-acre site, known as the Historic Gas Plant District, needs to be approved by the St. Petersburg City Council.
What's next: City council is expected to analyze the development, after term sheets are signed, sometime this spring.
If they can't work things out, the Rays might have to move to Tampa instead. It's not set in stone yet, so we'll just have to wait and see how it all turns out. We'll have to keep an eye out for updates.
Join over 29,000 Tampa Bay & Pinellas County homeowners & get this sent directly to your inbox
We respect your inbox. We only send interesting and relevant emails.
📍 5 Things You'll Love About Living In Palm Harbor
Why this matters: Choosing where you want to live is a big decision that can have a major impact on your family, your lifestyle, and your financial future.
After all, where you live is a long-term investment that can affect everything from your job opportunities to your children's education. So, take your time, do your research, and make the choice that's right for you
After living in Palm Harbor for over 20 years, here's the 5 things I love about living in Palm Harbor. And why I believe it should be at the top of your list.
🗓️ Is April The Best Time to Sell in 2023?
What's Driving The News: Even though rates are higher, and some news are mentioning 1% price declines since last month... year over year we're up 9%. And we're still up 53% from 2020… This is why economists say, "Tampa Bay's higher post-pandemic cost of living is the new norm." because it doesn't look like it's stopping any time soon.
Why this matters: According to Realtor.com they found sellers who sell in mid to late April could boost their sale price by $48,000—if they prepare for the sale with calculated repairs, valuable updates, and effective marketing tactics.
Yes, But Why: Because during this window you'll experience the best combination of market conditions:
1. Higher home prices:
Homes listed this week are priced 2.1% higher than the average week and 12% higher than the start of the year.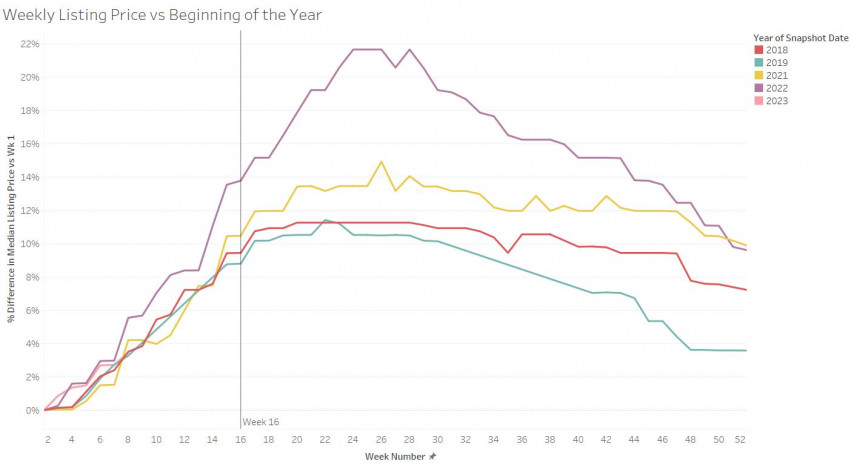 2. Strong buyer demand:
Homes listed this week had 16.4% more views than the average week and 32.5% more views than average in 2022.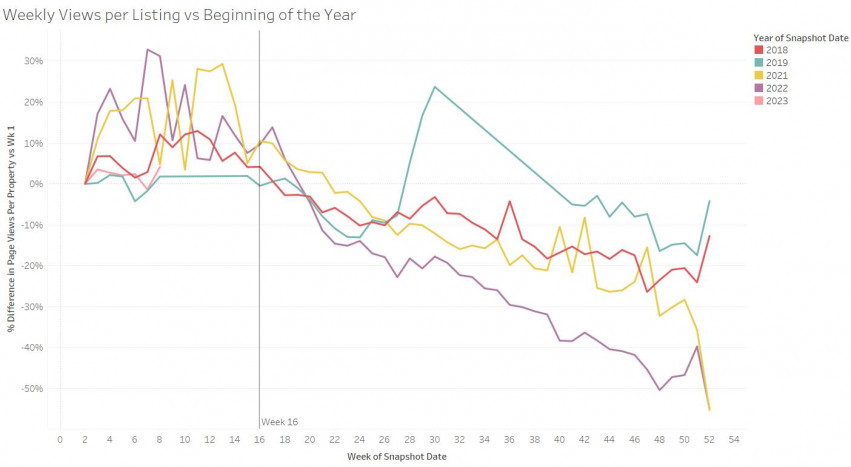 3. Less seller competition:
Active inventory at the start of 2023 was 65.5% higher YoY but 43.2% lower than pre-pandemic levels, which means less seller competition.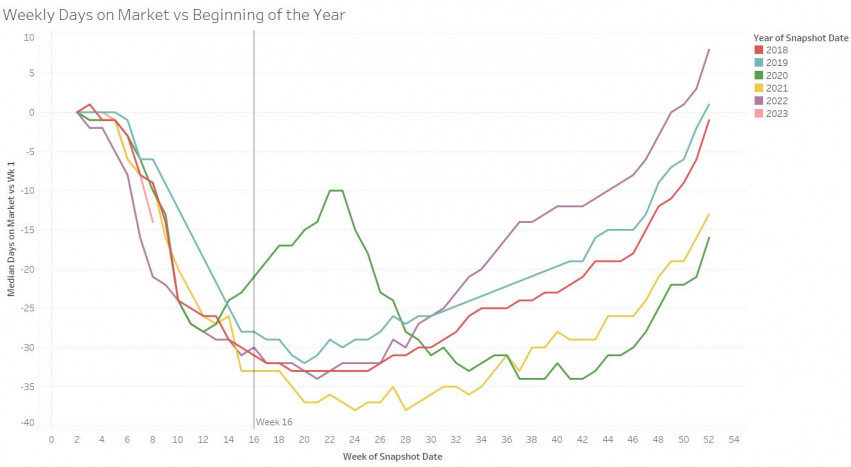 4. Faster sales times:
Homes have historically sold 18% faster this week than average, and experts also expect faster sales times this year despite lower buyer demand.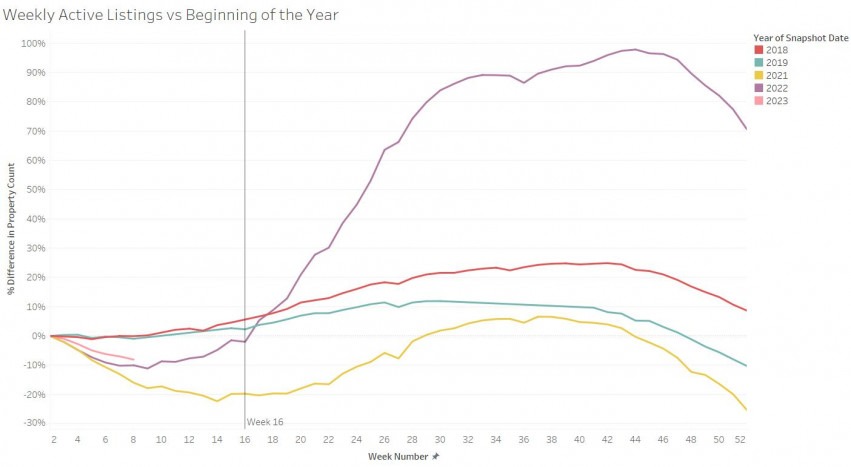 And because there's pent up buyer demand plus the market dynamics of the market are shifting with Spring & Summer:
Mortgage rates are expected to remain elevated throughout most of 2023.
Supply does not match demand. We're 6.5 million homes short, which is 2-3 years to catch up to normal.
Prices tend to peak later, as does competition. Prices may peak in Summer, like usual, but so does seller competition.
Strong Demand for Well-maintained, Fairly-Priced Homes. Buyers feeling the pressure of affordability will likely be choosier and less willing to shell out the big bucks for a less-than-ideal home.
So what do most sellers do to maximize their profit when they sell:
Made repairs/updates (35%)

Cleaned and decluttered their home (33%)

Found an agent to help them (31%)
Even minor home repairs can make a big difference during a showing. Buyers who see leaky faucets and doors that don't close (or are difficult to open) are more likely to wonder about larger potential issues with the home.
Here's the most common repairs:
Minor cosmetic updates—like updating light fixtures, faucets, drawer pulls, etc. (16%)

Carpet/floor replacement or refinishing (14%)

Landscaping—like adding mulch, a raised-bed garden, vegetation, etc. (13%)

Full painting of exterior (12%)

Touch-up paint (12%)

Full painting of interior (12%)

Replacing major appliances—including kitchen or laundry (11%)

Replacing the roof (9%)

Replacing major systems—like HVAC, hot water heater, heating (8%)

Caulking (6%)

Replacing grout (6%)
Bottom line: Ultimately, the best time is dependent on your situation, but the Tampa market is still strong, and we're launching into the next buying cycle. With interest rates leveling off and the lack of inventory, we're seeing the market pick up. We expect a surge in the market through the Summer of 2023.
The resiliency of migration to Florida combined with the low supply of homes will drive demand in the housing market for the foreseeable future. It's all about location, location, location. Our location is great. So where's the bad part of Tampa? In my opinion, there isn't one.